"We need a fence!"
The spectacle of border militarization in Israel and in the USA
Palavras-chave:
border, militarization, performativity, spectacle, securitization
Resumo
This article presents an analysis of the contemporary phenomenon commonly referred to as the "multiplication of walls", namely the militarization of borderlands. It considers border enforcement as a policy solution about mobility portrayed as "undesirable", propounded by politicians, security professionals and citizens' groups for their own political benefit and interest. The "wall" is thus apprehended through a political spectacle intended for fenced-in citizens. To dissect the wall spectacle, the article resorts to an international comparison in two different geopolitical cases. The comparison specifically focuses on mobilizations in favor of "border/security fences" in Israel from 2001 and Arizona (USA) from 2010. It identifies three analogous political operations led by these actors (problematization of mobility, securitization into a military response and publicization of pro-fence narratives), and thus characterizes the manufacture of border militarization from a bottom-up perspective, while illustrating their national variations.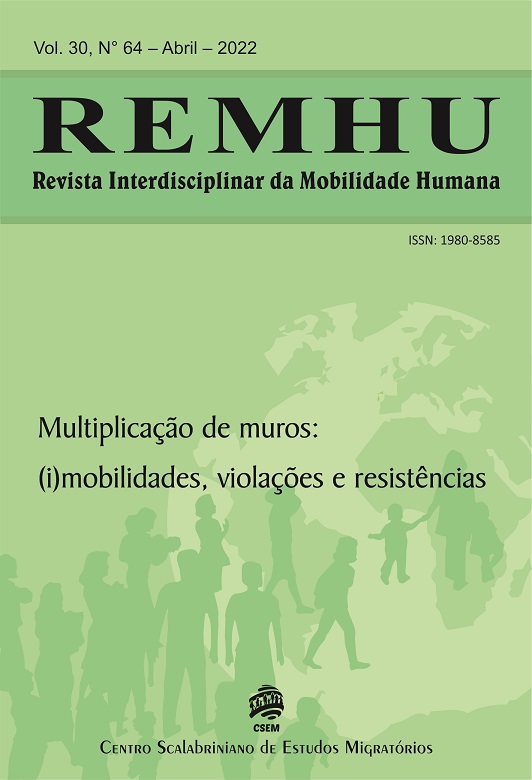 Downloads
Licença
Copyright (c) 2022 Revista Interdisciplinar da Mobilidade Humana
Este trabalho está licenciado sob uma licença
Creative Commons Attribution 4.0 International License
.
Os autores mantém os direitos autorais e concedem à revista o direito de primeira publicação, com o trabalho simultaneamente licenciado sob a Licença Creative Commons Attribution que permite o compartilhamento do trabalho com reconhecimento da autoria e publicação inicial nesta revista.