Interacciones en diáspora. Matrices mediáticas y no mediáticas en las redes de familiaridad
Palavras-chave:
Comunicación, Migración, Familiaridad, Redes, Comunicação, Família
Resumo
Las discusiones y reflexiones presentadas en este artículo derivan de los resultados de una investigación, dentro del campo de la comunicación, con migrantes uruguayos en el sur de Brasil. Eso a partir de las historias de vida de interacciones mediáticas y no mediáticas. En ese escenario focalizo el texto sobre uno de los temas que me parece importante para entender los procesos de la migración, lo que entiendo como redes de familiaridad, i.e., la dinámica realizada por los sujetos para tornar el lugar extraño en familiar – considerando las apropiaciones de productos y procesos mediáticos y no mediáticos. De esa forma pretendo reflexionar sobre las estrategias de los migrantes para vivir lo que entiendo como un "estado de familia", eso significa trabajar (analizar), para entender, las constantes configuraciones cotidianas del día a día de las relaciones espaciales – estar en un determinado lugar – y simbólicas – producto de las acciones de un individuo.
Palabras claves: Comunicación; Migración; Familiaridad; Redes
This paper introduces some discussions and careful considerations resulting from a research undertaken with Uruguayan migrants settled on the South of Brazil. Placed within the communication field, the research methodical process was orientated by the migrants' life histories of media and non-media interactions. Therefore, the paper focuses on what it can be considered one of the main subjects to understand the migration process: the familiarity network; i.e., the dynamic undertaken by individuals in order to turn the foreign place into a familiar one – considering the appropriations of media and non-media products and processes. Thus, I intend to think about migrants' strategies to experience what I understand as a "state of family". That means to work (to analyze) in order to understand the constant every-day configurations of spatial (to be in someplace) and symbolic relations – as a results of ones' actions.
Keywords: Communication; Migration; Familiarity; Network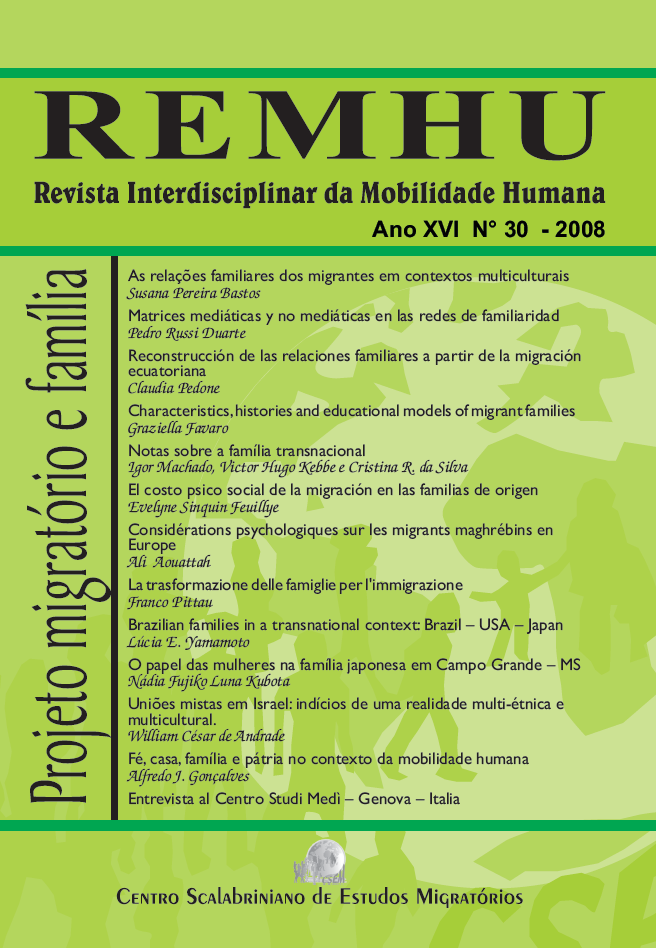 Downloads
Licença
Os autores mantém os direitos autorais e concedem à revista o direito de primeira publicação, com o trabalho simultaneamente licenciado sob a Licença Creative Commons Attribution que permite o compartilhamento do trabalho com reconhecimento da autoria e publicação inicial nesta revista.