"El sol no siempre brilla para todos"1: estrategias de inserción de los jóvenes afrocolombianos a la ciudad de Pereira
Palavras-chave:
Proceso migratorio, estrategias de inserción urbana, jóvenes afrocolombianos, Pereira, Chocó, migratory process, urban insertion strategies, young Afro-Colombians, Chocó.
Resumo
El acelerado proceso de urbanización de la población afrocolombiana puede explicarse a partir de los crecientes flujos migratorios desde la región Pacífica hacia las ciudades, entre las cuales, Pereira ha adquirido una relativa importancia en los últimos años como polo de atracción de esta población. No obstante, el fenómeno migratorio hacia esta ciudad así como los procesos de integración de los migrantes a la sociedad receptora, han recibido una escasa atención por parte de los analistas sociales. En tal sentido, este artículo espera contribuir al esclarecimiento de las estrategias de inserción urbana desplegadas por los migrantes afrocolombianos, haciendo especial énfasis en la experiencia migratoria de los jóvenes procedentes del departamento del Chocó, por ser éste uno de los grupos poblacionales mayormente afectado por dicho fenómeno. A la luz de este estudio de caso, se pretende demostrar que, en virtud de su pertenencia étnico-racial, origen regional y clase social, estos jóvenes enfrentan condiciones adversas en su proceso de integración a la vida urbana.
"The sun does not always shine for everyone": insertion strategies of young Afro-Colombians into the city of Pereira
The accelerated urbanization process of the Afro-Colombian population can be explained from the growing migratory flow from the Pacific region toward the cities; among which, Pereira has acquired relative importance in recent years as a pole of attraction for this population. Nevertheless, the migratory phenomenon toward this city, as well as integration processes of migrants onto the receptor society have received little attention from social analysts. In this sense, this paper seeks to contribute to clarifying the urban insertion strategies deployed by Afro-Colombian migrants, highlighting the specific experience of young men and women coming from the department of Chocó, because they constitute one of the population groups that are most strongly impacted by said phenomenon. In light of this case study, we intend to show that, by virtue of their ethnic-racial heritage, regional origin, and social class, these young people encounter adverse conditions in their integration process onto urban life.
Todos os artigos da revista REMHU n. 43 estão disponíveis gratuitamente no site SciELO Brasil (www.scielo.br/remhu). 
All articles of the journal REMHU n. 43 are available online for free: SciELO Brasil (www.scielo.br/remhu).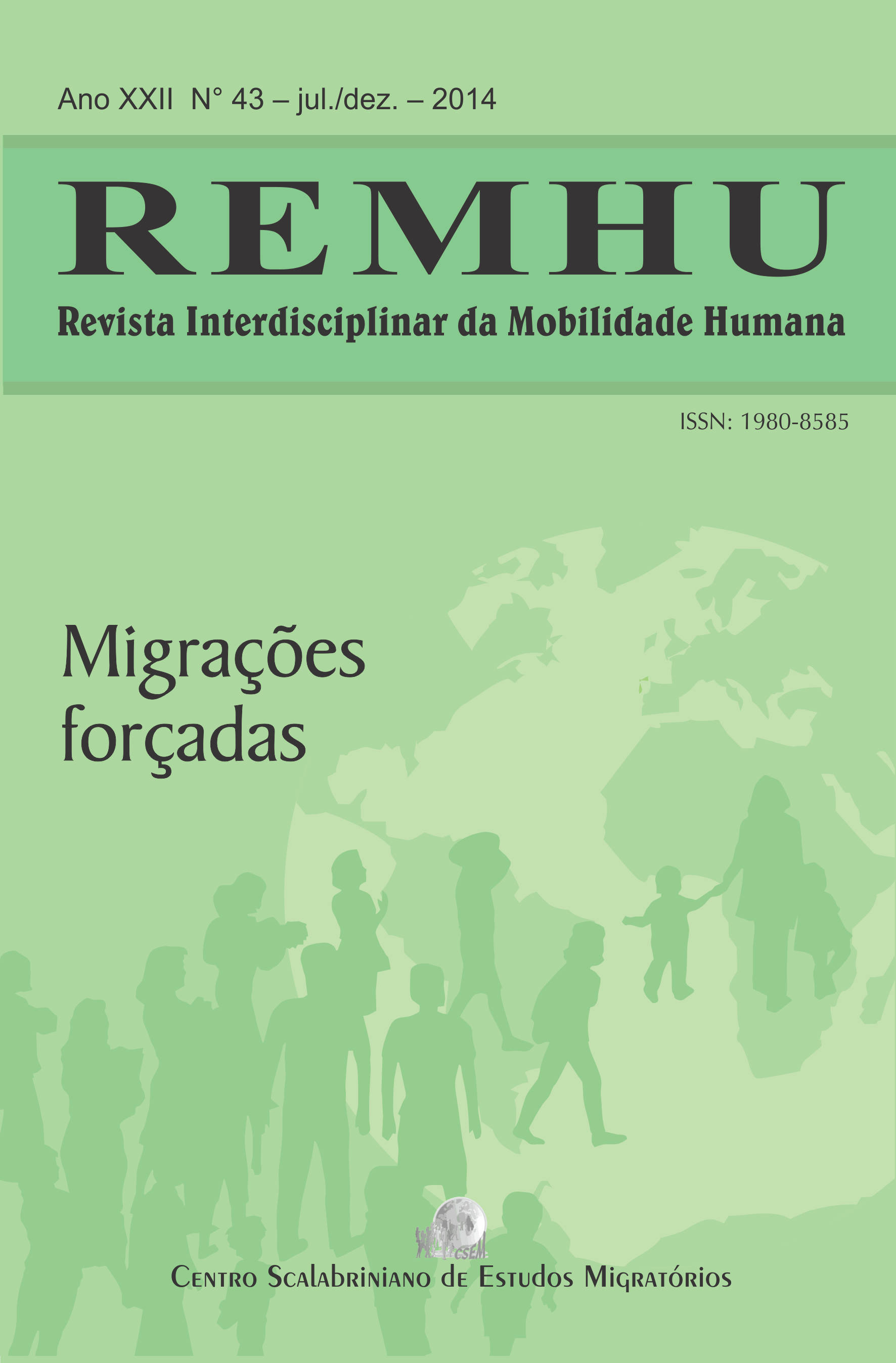 Downloads
Licença
Os autores mantém os direitos autorais e concedem à revista o direito de primeira publicação, com o trabalho simultaneamente licenciado sob a Licença Creative Commons Attribution que permite o compartilhamento do trabalho com reconhecimento da autoria e publicação inicial nesta revista.