Suramérica y los refugiados colombianos
Palavras-chave:
derechos humanos, desplazamiento forzado interno, refugio, Colombia, Suramérica, human rights, forced internal displacement, refugee, South America.
Resumo
A treinta años de la Declaración de Cartagena en una región que es considerada en el mundo región de paz, el acontecer cotidiano muestra otra realidad. En Colombia un país democrático, ubicado en el noroccidente de Sur América, la guerra interna ha traspasado las fronteras nacionales y la violencia estatal se asemeja a la aplicada por los gobiernos militares en el Cono Sur. Dan cuenta de ello, entre otros registros de violación masiva y sistemática de los derechos humanos, más de cinco millones de desplazados forzados internos y cerca de medio millón de refugiados. El destierro utilizado como mecanismo de exclusión política, se empieza a visibilizar por la magnitud del éxodo. La reconstrucción del discurso que los niega da cuenta de que no sólo esconden u obliteran relaciones de dominación, sino que también las construyen, las reproducen y las materializan. ¿Quiénes son esos refugiados? ¿A dónde se dirigen en busca de protección? ¿Cuál es el lugar que les confiere los países que los protegen? Son algunas de las preguntas que se abordan en el presente artículo.
South America and the Colombian refugees
Thirty years after the Declaration of Cartagena, in a region considered peaceful, the daily facts show a different reality. In Colombia, a democratic country located in northwestern South America, the civil war has crossed national borders and state violence is similar to that applied by the military governments in the Southern Cone. Among other records of massive and systematic violation of human rights, more than five million are internally displaced and nearly half a million refugees are an example. Banishment used as a mechanism of political exclusion, begins to be visualized due the magnitude of the exodus. The reconstruction of a discourse that denies them shows that this exclusion not only conceals or obliterates relations of domination, but also build, reproduce and materialize them. Who are the refugees? Where do they go for protection? What place are they given in the countries that protect them? These are some of the questions addressed in this article.
Todos os artigos da revista REMHU n. 43 estão disponíveis gratuitamente no site SciELO Brasil (www.scielo.br/remhu). 
All articles of the journal REMHU n. 43 are available online for free: SciELO Brasil (www.scielo.br/remhu).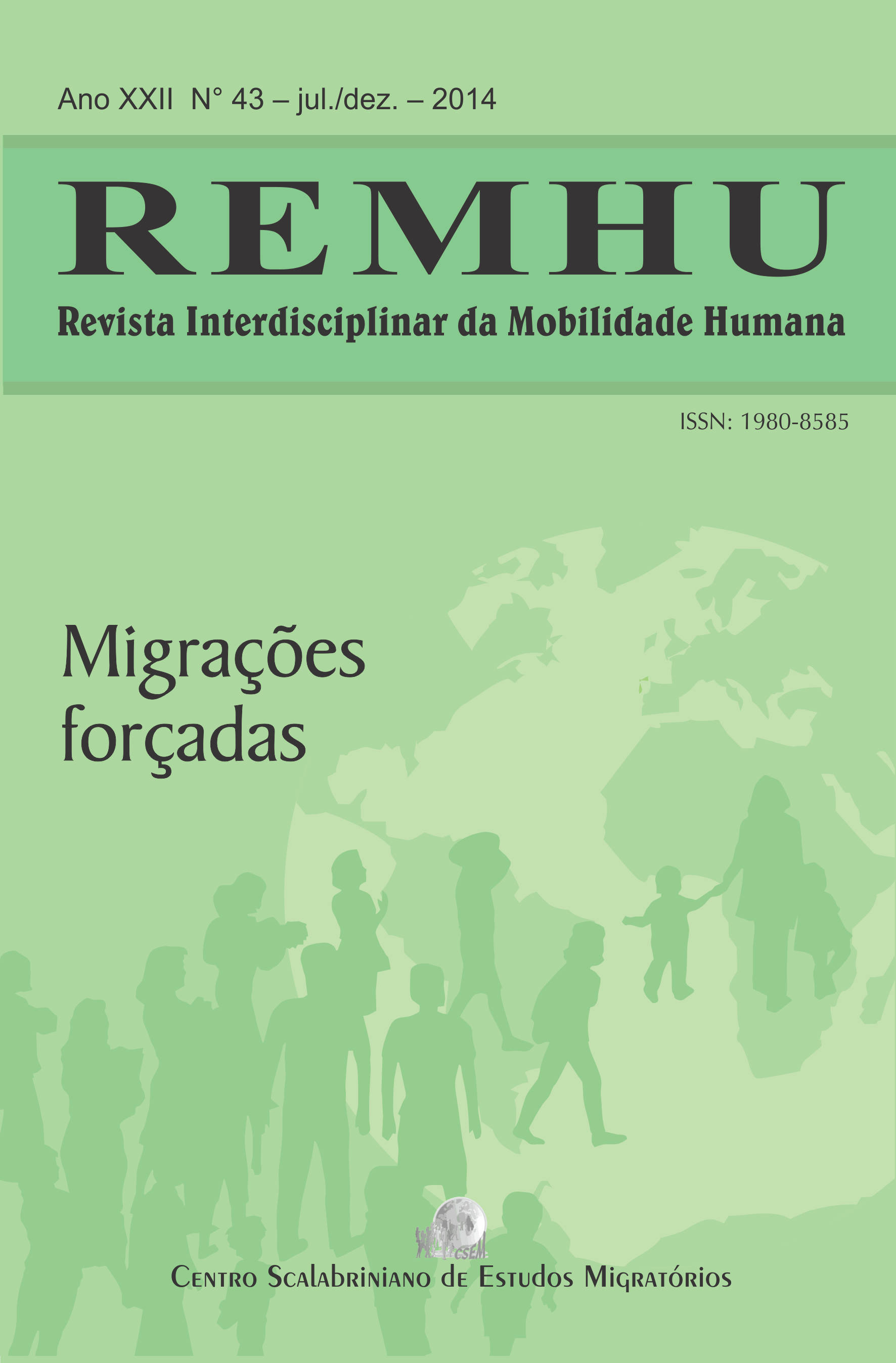 Downloads
Licença
Os autores mantém os direitos autorais e concedem à revista o direito de primeira publicação, com o trabalho simultaneamente licenciado sob a Licença Creative Commons Attribution que permite o compartilhamento do trabalho com reconhecimento da autoria e publicação inicial nesta revista.